Product development meeting demands and wishes of our target customer groups is the key to growth, brand and profitability.
Demands from leading photographers
Short flash duration
Fast recharging
Extensive power range
Innovative
Intuitive
Reliability
Durability
Productivity
Ease-of-use
Product development is part of the DNA
Product development and R&D is and has always been a key focus area for Profoto and constitutes a significant part of the Company's heritage and DNA. From its foundation in 1968 until today, the ambition has always been to create the world's best flashes. The Company has been driving shifts in technological advancements and photographic trends and has managed to stay ahead of the curve through continuous innovation and product development.
All strategic research and product development are performed in-house and today the Company has a team of experts in the fields of Image Technology, Power Electronics, Connectivity, Embedded Software and product design or mechanics. The team comprises 73 people (employees and full-time consultants) within the technology areas web development and technical development. Profoto has had a high level of R&D spend which amounted to an average of 10% of the net sales between the years 2018-2022.
New product ideas and roadmap are generated through a continuous idea generation process and quarterly roadmap reviews.
The systematic process of new product development coupled with a detailed product life cycle management approach, where all products are provided with a strategy from initial launch via facelift to end-of-life, has enabled Profoto's successful growth within existing and adjacent customer groups.
Expansion into new categories of photographers during the years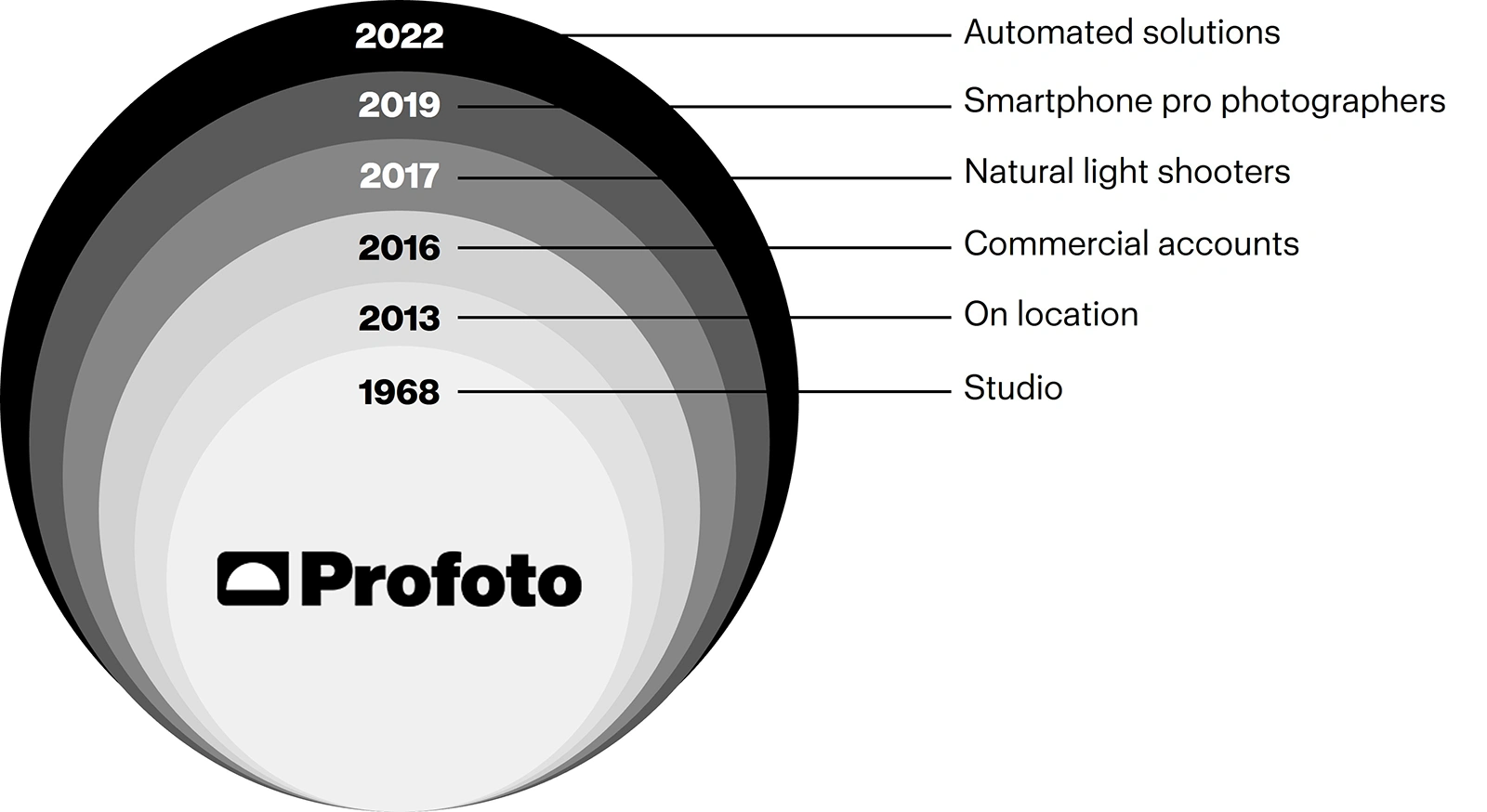 Overview of major product launches
| | | |
| --- | --- | --- |
| Year | Product | Segment |
| 2022 | ProStudio | E-Commerce |
| 2022 | Connect Pro | All |
| 2022 | A2 | On location |
| 2021 | B10X och B10X Plus | On location |
| 2021 | Profoto Camera | Professional Smartphone |
| 2021 | Pro-11 | Studio |
| 2020 | A10 | Natural light |
| 2020 | Profoto Camera | Professional Smartphone |
| 2020 | D2 Industrial | Studio |
| 2019 | B10Plus | On location |
| 2019 | C1/C1 plus och Profoto Camera | Professional smartphone |
| 2019 | A1X | Naturligt ljus |
| 2018 | B10 | On location |
| 2018 | Profoto App | On location |
| 2017 | A1 | Natural light |
| 2017 | B1X | On location |
| 2016 | Pro-10 | Studio |
| 2016 | D2 | Studio |
| 2015 | B2 | On location |
| 2013 | B1 | On location |
| 2009 | D1 | Studio |